HIBISCUS CHILDREN'S CENTER HONORS VOLUNTEERS AT APPRECIATION LUNCHEON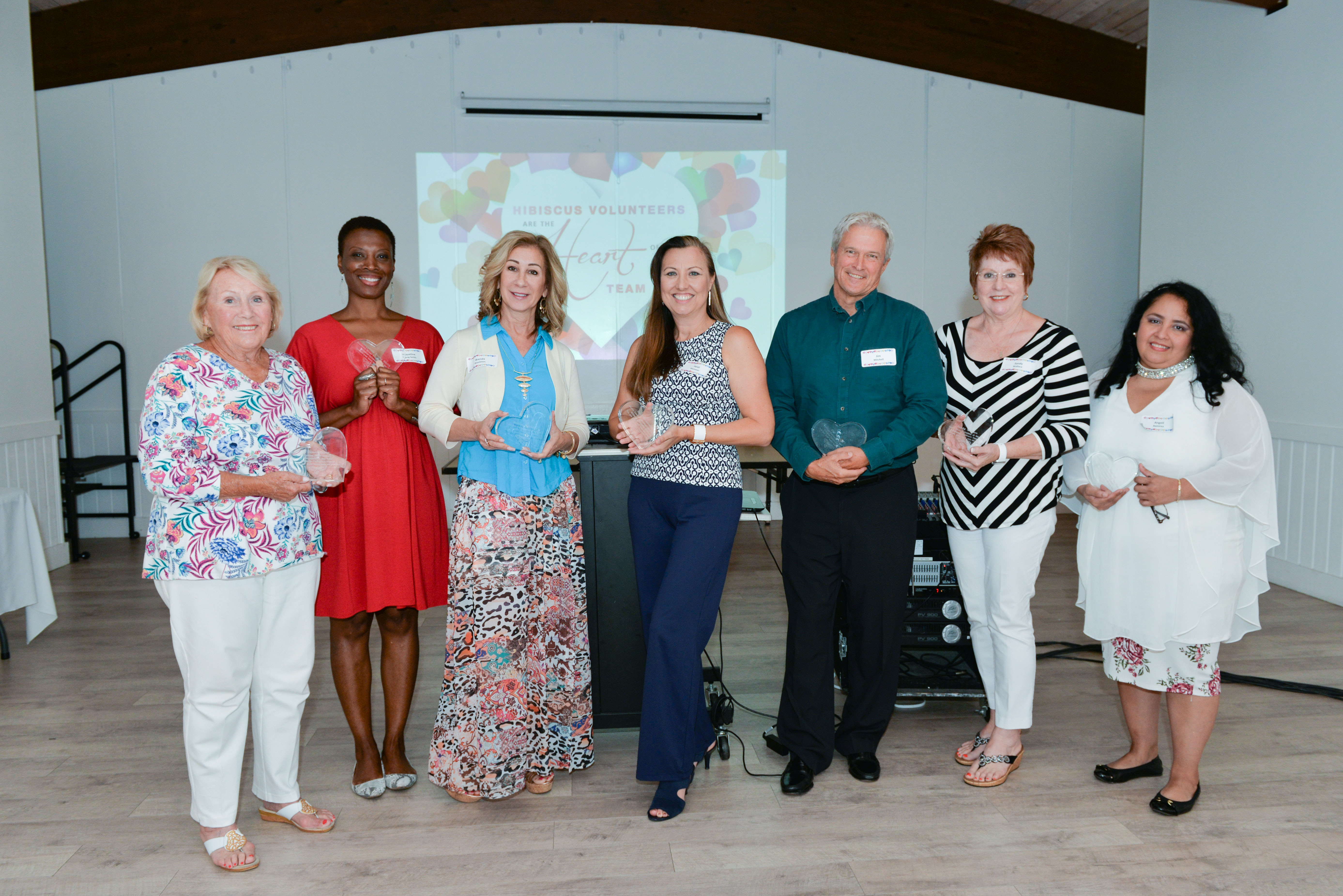 Congratulations to our Volunteer of the Year winners (L-R): Carole Casey – Indian River County,  Jacqueline Young-Smith – Sanctuary4Kids Shelter,  Brenda Woolston – Shelter,  Heidi Monsour – Martin County,  Jim Mitchell – Village,  Sandy Wallace – Thrift Store, and Angeli Ramirez – Student Intern.  *Not pictured: Mike Henry – St. Lucie County.
Treasure Coast, FL  – Hibiscus Children's Center had the privilege of honoring its wonderful volunteers at a special luncheon held in early May at the River Walk Center in Ft. Pierce.  During this special time, it was the perfect opportunity to say thank you to these incredible volunteers who make a difference every day in children's lives.   We thank you from the bottom of our hearts – every single volunteer is important. Chloe Henry, a former Hibiscus Shelter client, shared her story and thanked the volunteers for making a difference in her life and helping her become a wonderful mom to her daughters.
The highlight of the afternoon was the awards program; however, every volunteer deserves to be recognized and profusely thanked for their unwavering dedication to the children and youth.  Hibiscus Children's Center is delighted to share our Volunteer of the Year winners:
Hibiscus Shelter – Brenda Woolston:  Brenda is always asking "what can I do to help the kids"?  She has a heart that overflows with love and kindness for the abused children in our care.  She volunteers regularly at the Jensen Beach Shelter in addition to being an active Guild member who fundraises and raise awareness for the needs of the children and has definitely helped to make their lives brighter.
Hibiscus Village – Jim Mitchell:  For four years, Jim has been faithfully tutoring teens living at the Village as well as mentoring youth in the Career Pathways Program with resume writing workshops.  Jim has also assisted with parties for the teens and behind the scenes at fundraising events.
Sanctuary4Kids House – Jacqueline Young-Smith:  Jackie is a dynamic volunteer who is passionate about helping children and teens who are hurting and need love and support.  When she began volunteering, Jackie made an immediate impact on our clients, teaching them several different life skills such as laundry, folding clothes and proper hygiene.
Treasure House Thrift Store – Sandy Wallace: As much as Sandy enjoys volunteering at the Thrift Store, the staff and customers love having her there!  She is prepared to do anything that is asked of her, helps the customers any way she can and is always smiling and encouraging.  Sandy's dedication to the mission is evident in her enthusiasm and eagerness to help.
Student intern – Angeli Ramirez: Angeli attends Palm Beach Atlantic University and has interned at the Hibiscus Village for the past year. She is very passionate about helping the teens and has provided mental health therapy to several of them and assisted in their healing and trauma recovery.
Indian River County – Carole Casey:  Carole is known for working behind the scenes using her incredible talents to create magic for the Indian River County fundraising events to benefit our youth.  Carole is a long-time Guild member and Hibiscus supporter and has dedicated countless hours to help improve the lives of the abused teens in our care.
Martin County – Heidi Monsour:  Heidi is an enthusiastic volunteer with a heart for children. She leads by example and volunteers with a passion.  Her creativity, organization and leadership are just a few of her strengths that have greatly impacted Hibiscus' fundraising events and Guild activities.
St. Lucie County – Mike Henry:  Mike provided the leadership and support to help create and guide the St. Lucie Guild.  He is an incredible example of a hard working volunteer who quietly raises awareness, in-kind and monetary donations for fundraising activities to benefit abused children.
Community Partner – Panera Bread:  Panera Bread and Covelli Enterprises are true partners and heroes for abused children.  Local Panera Bread café's collect donations and host special fundraisers throughout the year for the children and provide event sponsorships.  Mrs. Jo Covelli and the Albert M. Covelli Foundation are long-time supporters of the Hibiscus mission and continue to impact abused children's lives through its wonderful and generous support.
Thank you all for your incredible dedication and commitment to our children and youth!