Honoring Our Beloved Founder, LaVaughn Tilton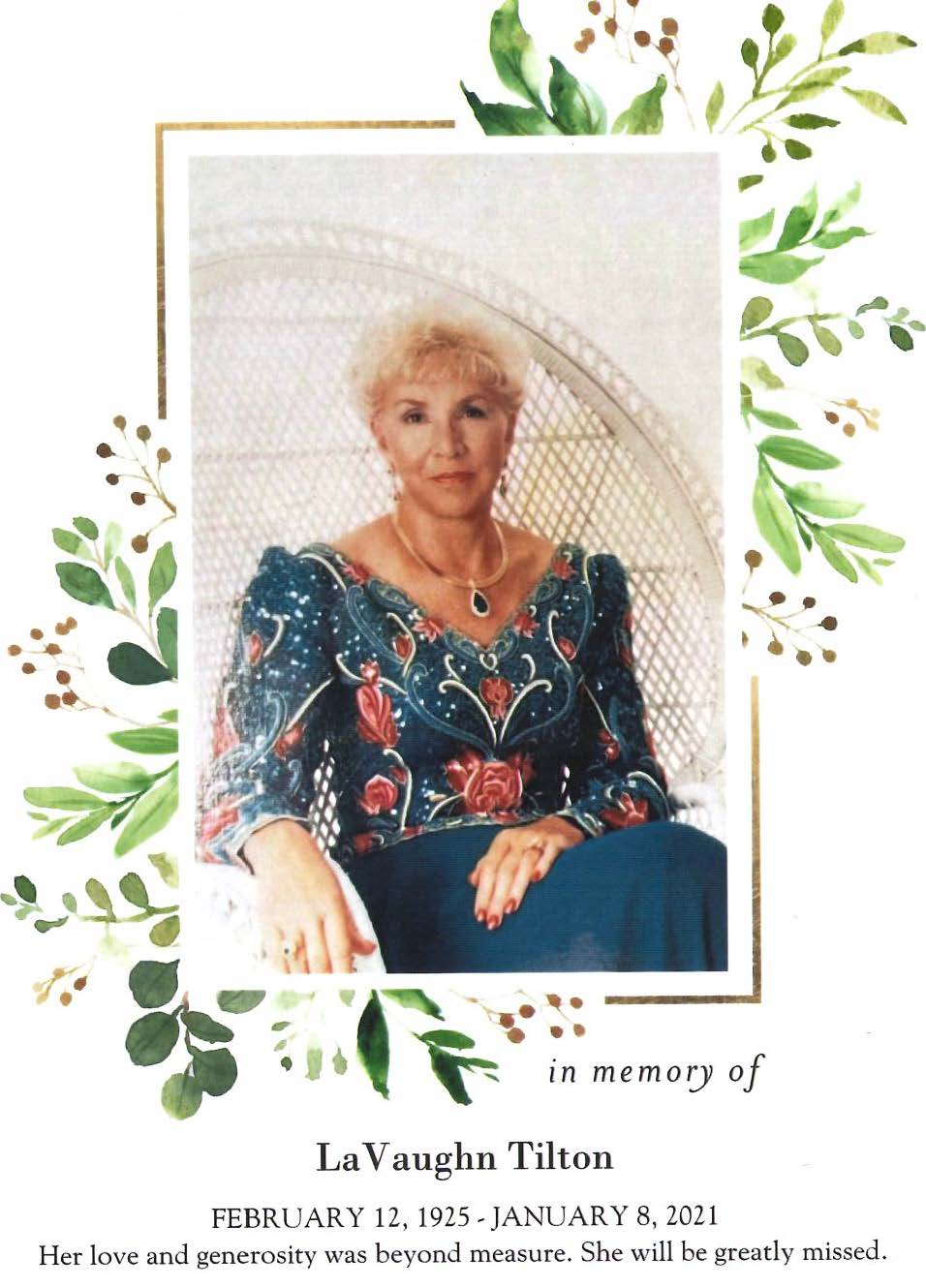 "What About the Children"?  This was LaVaughn's heart cry in 1985 when she began her quest to address the lack of safe places for abused children.  She was already a passionate advocate for abused children.  As she sat on the board of the Center for Prevention of Child Abuse, a non-profit that trained volunteers to work with abusive parents, LaVaughn asked the question, "What about the children?  We don't have any facilities for them".  LaVaughn believed that all children should grow up in a safe and loving home, free from abuse and neglect.  
Catapulted by the news of a senseless and tragic death of a child at the hands of his own father, this already concerned citizen helped drive her community into action. LaVaughn and her family launched a campaign across the Treasure Coast that galvanized the community to stand up for abused children and ensure they had a safe place to temporarily call home.  Her quest to create what would become the Treasure Coast's only licensed emergency shelter for abused children, ages birth to 12, inspired builders, contractors and local citizens to embrace this vision for a safe haven for children.  On October 24, 1989, the first child walked through the doors of the Hibiscus Shelter in Jensen Beach.  Since then, over 3,000 children have been provided safe haven and loving care at the Shelter and Village and thousands more have been helped in our community outreach programs. 
There is no imaginable way to measure the thousands of lives that LaVaughn has touched through her dream of moving towards a safer tomorrow for children.  The many accomplishments of Hibiscus Children's Center for over 35 years is a reflection of the solid foundation and vision that LaVaughn has bestowed upon this organization.  LaVaughn had expressed numerous times that Hibiscus Children's Center was fulfilling the dream she had many years ago to make life better for children.  Without a doubt, because of LaVaughn's determination, passion and dedication to put her concerns into action, Hibiscus Children's Center has given countless children the hope of a better and brighter tomorrow.
For over three decades, LaVaughn continued to help fight and advocate for our children. She held the role of Chair Emerita for the Hibiscus Board of Directors and was a member of the Martin County Guild.  LaVaughn chaired fundraisers and assisted in vital decision-making processes to sustain the future of her beloved organization.  She was a gracious and lovely woman who will always be remembered as an inspiration and a hero to children.

"History will judge us by the everyday difference we make in the lives of children." – by Nelson Mandela.

LaVaughn has truly made a difference in the lives of children and is the reason thousands of children have felt safe, loved and full of hope.  LaVaughn was truly a hero for children and Hibiscus Children's Center is proud to carry on her incredible legacy.  
2005 Florida Coalition for Children "One Person Can Make a Difference Award"
2008 Soroptimist of Stuart "Making a Difference Award"
2009 "Women, Wealth & Giving" Book (includes LaVaughn's story)
2010 Dedicated Shelter "Tilton Family Children's Shelter"
2016 The Jefferson Award
Read about Hibiscus Children's Center's 35 Year Journey