OKEECHOBEE SERVICES
Hibiscus Children's Center
COMMUNITY MENTAL HEALTH SERVICES
PARENTS AS TEACHERS
605 SW Park Street, Suite #207
Okeechobee, FL  34972
(863) 467-1166
At Hibiscus Children's Center, we provide Community Mental Health Services for children, adolescents, and their families.   We offer in-home counseling services throughout the Treasure Coast and Okeechobee County with focus on decreasing emotional and behavioral issues related to abuse, trauma, neglect, and mental health disorders.  Referrals for outpatient Mental Health services come through our Community Services Office, located in Ft. Pierce.
Our clinical staff consists of mental health professionals with a wide range of experience and expertise in child and family therapy. Our licensed therapists are trained in a variety of age appropriate and best practice treatment interventions including Play Techniques, Trauma-Focused Cognitive Behavioral Therapy (TF-CBT), Cognitive Behavioral Therapy (CBT), Child-Parent Psychotherapy (CPP) and Eye Movement Desensitization Reprocessing (EMDR).
Families may seek our services for their child or teen to address issues related to:
• Low self-esteem
• Divorce and family conflict
• Child sexual abuse, physical abuse or neglect
• Drop in grades or problems concentrating in class
• Sudden changes in behavior, including withdrawal
• Excessive fears, phobias, anxiety, and depression
• Grief related to the death of a family member or friend
• Persistent defiance, aggression, and fighting at home and in school
• Unexplainable anger, temper tantrums, and defiance toward parents
At Hibiscus Children's Center, we understand that child sexual abuse is not only traumatic on the child, it impacts the entire family.  Our Sexual Abuse Treatment Program (SATP) provides specialized treatment services for children who are victims of sexual abuse, as well as for their families.  Through a combination of group, family and individual counseling for child sexual abuse survivors and their families, SATP works to reduce the trauma caused by sexual victimization.  We help families recover, working to prevent further sexual victimization while enabling families to develop healthy, non-abusive relationships.
Parents as Teachers Program is a parent education home-visiting program. The goal of the PAT Program is to provide parents with child development knowledge and parenting support, provide early detection of developmental delays and health issues, prevent child abuse and neglect, and increase children's school readiness.
Please contact us at 863.467.1166 for more information or to schedule an appointment for your child.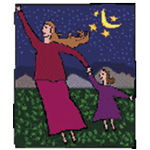 Programs funded in part by
Children's Services Council of Okeechobee