Martin County Community Provides Memorable Christmas to Hibiscus Shelter Children
Martin County, FL – There were many smiling faces at the Hibiscus Shelter in Jensen Beach on Christmas morning!  The Martin County community came together, once again, to help brighten the holiday season for abused, abandoned and neglected children served by Hibiscus Children's Center.  The Hibiscus Santa's Elves Program partnered closely with our generous community to collect and organize toys and gifts to fill children's wish lists for Christmas.  Co-chairs Ellen Houts and Ashley Braden-Knowles spearheaded this special holiday program and had the help of many Elves who were vital to the success of this project.  Over twenty Martin County Guild members helped wrap all the donated gifts and more than twenty volunteers helped transport the toys and gifts from Santa's Workshop to the Shelter in time for Christmas morning!  These wonderful volunteers also assisted in throwing a pizza and pajama party for the children on Christmas Eve and helped out with the Christmas morning festivities.
One of the goals of the Santa's Elves Program is to provide Life Enrichment Activities that the children can enjoy throughout the year, including museums, educational exhibits, sports and community activities, fishing, sailing and art camps, and much more.  These life experiences can provide a sense of normalcy to the children, help them heal from the trauma they have endured and give them positive childhood memories.
Special thanks to these generous community partners: The Saelzer/Atlas Wealth Management Group of Raymond James and their clients, Michelle Schwartz and Copperfield Neighbors, St. Bernadette Catholic Church in St. Lucie West, Treasure Coast Panera Bread Café's, Sailfish Point Country Club Neighbors, Stuart Office of Gunster, and the Kindergarten and First Grade classes of Redeemer Lutheran School.  Hibiscus also received $11,000 in life enrichment activity donations and gift cards for Florida Oceanographic, The Children's Museum, movies and bowling.  Thank you to all involved for your generosity, caring spirit and kindness to the children.  What a wonderful way to give children special memories that will last a lifetime!
For more information about Hibiscus Children's Center, please visit us at HibiscusChildrensCenter.org or call (772) 334-9311.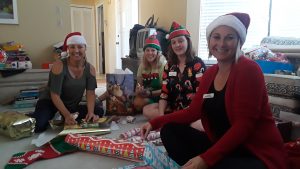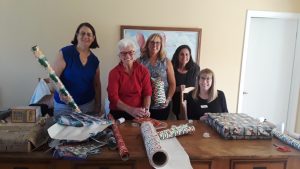 Santa's Elves busy wrapping for the Shelter children!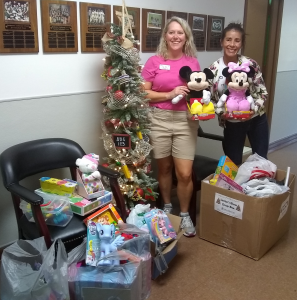 Santa's Elf Ellen Houts was delighted to pick up lots of great toys from Angie Jones at Redeemer Lutheran School.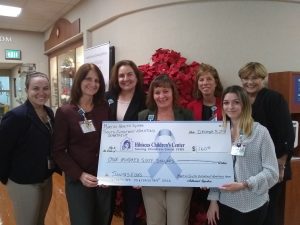 Martin Health System – South Outpatient Admitting Department donated to the Santa's Elves life enrichment activity fund drive.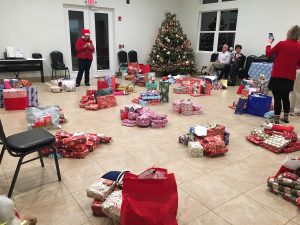 Our wonderful Christmas volunteers helping to sort and get the presents under the tree ready for Christmas morning at the Shelter!