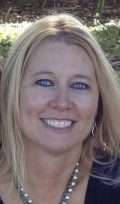 Treasure Coast, FL – Hibiscus Children's Center (HCC) is pleased to announce that Michelle King has joined the organization as Chief Development Officer.   Michelle's career in fundraising and nonprofit management has spanned nearly 30 years.  From 2001 to 2006, Michelle worked for Hibiscus as Director of Special Events and Director of Resource Management.
Prior to joining HCC, Michelle served as Senior Regional Director of Development and Advancement for Children's Home Society of Florida where she spent eight years directing major gift fundraising and supervising 14 major gift officers throughout the state.  Previously she worked for Metro United Way (Louisville, KY), United Way of St. Lucie County and Planned Parenthood of South Florida and the Treasure Coast.  She has been an active member of the Treasure Coast community for 20 years."
Michelle stated, "I get the most satisfaction out of my role when I see my team realize their success, especially through transition. I have learned the power of teamwork and have applied that throughout my career. I aim high and work tirelessly to achieve results. I look forward to bringing my energy and passion for helping children to Hibiscus Children's Center.
"I think we hit a home run when Michelle accepted our offer of employment," said Matt Markley, President/CEO of Hibiscus.  "The breadth and scope of her experience combined with her engaging personality and work ethic, will take Hibiscus' development efforts to new heights."
Michelle is a graduate of St. Lucie, Martin and Southern Indiana Leadership programs and has served as Past President of the Association of Fundraising Professionals, Treasure Coast.