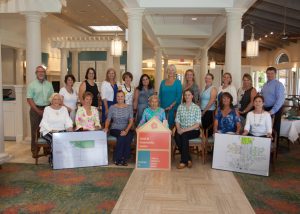 Front/L-R:  Betty Volkwein, Judie Wolfe, Heidi Monsour, LaVaughn Tilton, Hibiscus Founder, Ashley Braden-Knowles, Guild President, Pam Gardner, and Debbie Butler.
Back/L-R:  Paul Sexton, Hibiscus CEO, Lori Swift, Director of Outreach & Events, Mary Zottoli, Lesley Freer, Molly Hoffman, Gina Lippman, Joyce Powell, Kelley Decowski, Ellen Houts, Michelle Schwartz, Carol Holth, and Lou Boccabella, VP of Project Management. (Photo Credit: Bob Dobens Photography)
Hibiscus Guild Hosts Summer Luncheon to Plan Fundraising Events
The Hibiscus Martin County Guild is hard at work planning the upcoming season of fundraising events.  They are pictured displaying renovation plans for the Hibiscus Shelter Makeover Campaign.
The Hibiscus Children's Center Martin County Guild has been helping abused children since their first meeting in 1992.  This dynamic group of volunteers, with many of the original members still actively involved, is the driving force behind Hibiscus' fundraising activities in Martin County.  Recently, they hosted a Guild Luncheon at beautiful Sandhill Cove in Palm City.
The lovely luncheon was a monthly meeting to discuss upcoming fundraisers and community activities to benefit abused children.  Guests and members were welcomed by Ashley Braden-Knowles, Guild President, who led the discussions about the wonderful events planned for the Hibiscus Children's Center 2018 Fundraising Season.  The exciting fundraising lineup includes:  January 12th – "Evening in the Tropics Casino Night" at Mariner Sands Country Club;  March 5th -"Jo Covelli's Ladies Luncheon" at Sailfish Point Country Club; and April 28th – "Raise the Roof '80s Party" at Flagler Place.   One of the Guild's favorite activities to plan is the Santa's Elves Program.  Each child living at the Shelter receives gifts from their "wish lists" and experiences – some for the very first time – the excitement and joy of the holiday season and special memories that will last a lifetime.
The dedicated Guild volunteers work together throughout the year to change the lives of abused children.  The fun and memorable events successfully planned and executed by the Guild directly benefit the abused children living at the Hibiscus Shelter in Jensen Beach.  The funds help to provide a safe haven, medical and dental services, therapeutic counseling and specialized sexual abuse treatment, educational and literacy services, and the love and care all children need.   The Guild has helped fragile children move forward from a past filled with trauma and fear to a brighter future filled with hope.  This remarkable group of volunteers are significantly impacting the children's lives on a daily basis and helping to give them the priceless gifts of feeling loved, valued and worthwhile.
For more information about Hibiscus Children's Center services, volunteer opportunities and fundraising events, please contact Lori Swift at (772) 334-9311, ext. 404, via email at LSwift@hcc4kids.org, or visit us at HibiscusChildrensCenter.org.