Community Provides Special Holiday Season
for Hibiscus Youth
The holiday season is a magical time of year for most families!  This is not necessarily the case for youth living in foster care.  The Indian River community helped to ensure the youth living at the Hibiscus Village in Vero Beach would have a very special holiday season and feel loved.  This year, as we all experienced the challenges of the Pandemic, we weren't sure what to expect in regard to donations for our youth.  We were absolutely overwhelmed with the outpouring of generosity we received!   Hibiscus Children's Center is deeply grateful to these organizations who blessed our youth by providing holiday gifts:  ABATE Motorcycle Club, CVS Distribution Center, Dale Sorensen Real Estate, Element Gym, Elks Lodge #1774, Indian River Farm Bureau, First Presbyterian Preschool, Hammock Lakes, iThink Financial, Lakes at Waterway Village, Living Lord Lutheran, Love to Serve, Inc., McDonald's of Sebastian, Opportunity Now, Inc., Olive Garden, Panera Bread, Parris Family Chiropractic, Raymond James, RE/MAX Associated Realty, Rhythm & Soul Yoga Studio, Riverside Family Dental, Rocking Horse Foundation, Rosewood Magnet, Team Success Enterprises and Vero Elite Volleyball Team.  In addition, these wonderful local businesses provided several items during the month of December for our youth:  Brandit Coporation (PPE supplies), Brooklyn Bagels (fresh bagels), Kidz Closet Charities (teen clothing), Little Birthday Angels (gifts & cakes), Team Success Enterprises (produce, milk & holiday gifts), Love to Serve (treats & holiday paper goods), Hungry Hearts Ministry (food & pastries), Publix (breads & sweets), Carter's (clothing), Wawa (lunch & goodies) and TampoPrint ($5,000 donation).  
Very special thanks to the Hibiscus Santa's Elves (aka Indian River Guild members) who raised enough money to abundantly provide gifts for each teen, and with the extra funds they received, they purchased an 85" TV for the Village Recreation Room.  Our guild volunteers also donated their time to beautifully wrap all the gifts collected so that our youth would have a memorable and exciting Christmas morning. 
Hibiscus is so grateful to everyone who participated in the holiday season in any way to help ensure our youth experienced the joys of the season and received wonderful gifts to brighten their lives.  If you would like more information about how you can get involved to help our youth, please visit HibiscusChildrensCenter.org or contact Donna Clements, Volunteer & Activities Coordinator, at (772) 299-6011, ext. 334.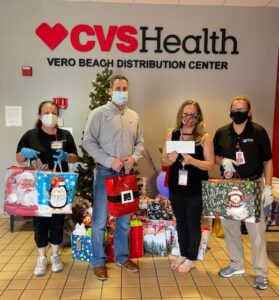 CVS Health Vero Beach donates gifts & $2,500 to youth.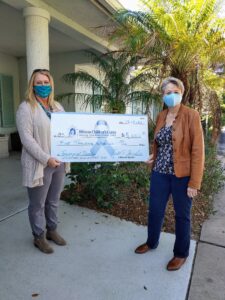 Ingrid Jacobs of TampoPrint presented a generous
$5,000 donation to Michelle King at the Hibiscus Village.